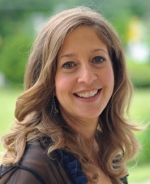 My journey to becoming a Health & Happiness Coach began with my personal story. Starting in my teens, I began to struggle with my weight, my body image and self image and became obsessive about my eating. Even back then, I had a love-hate relationship with food. I really enjoyed food and developed an appreciation for different flavors early on. Yet, at the same time, I also bought into the mainstream belief that deprivation, starvation and willpower were my only options (boy, was I ever wrong). I tried every diet, each next "miracle" fad, I joined gyms and bootcamps, diet pills, weight loss support groups and even had diet meals delivered to my door. Most of the time, I'd lose some weight and then I'd gain it right back (and more), after buying all new clothes, of course. But why? Harsh self-criticism was a constant soundtrack in my head as I wondered, what was wrong with me? Was this my destiny?
If I could only lose the weight, THEN, I would be happy.
So I numbed-out and focused on my academic achievements where I had way more confidence. I attended Smith College, then went to law school and began my professional legal career with a vengeance. I practiced commercial litigation in big New York City firms for 13 years.  My life looked perfect on paper. While I was successful in my professional life and my personal life (happily married with two amazing daughters), I was suffering privately. While pretending that everything was fine, the truth was that I felt like a mess – -depressed, obese, exhausted, my hair was falling out (and wouldn't grow), I had constant sugar cravings, skin problems, digestive issues, energy slumps and even mood swings. I lived with the daily hopelessness of being miserable in my own body. I realized that I'd successfully fulfilled all of the roles in my life – – I was a lawyer, a mother, a wife, a daughter, a sister, a friend – – but who was I? Where was I? What did I want for my life? When (and how) would there be time and energy for my own needs to get met? Somehow, I got lost along the way (or so it seemed).
Then, after decades of living this way, finally, I felt a twinge of hope. When I turned 40, something shifted for me and the numbness gave way to determination. I knew I just needed to focus on what I wanted for my life and make it happen!  I'd been dreaming of a life that made me truly happy and fulfilled (inside and out) and it was time for me to claim it. With this new attitude, I embarked upon personal mission to discover a new way of thinking about food, a new way of eating and a new way of living without struggle, punishing self-talk or the fears that held me back for so long. As the backdrop for these lifestyle changes was my crusade toward happiness, supporting my belief (at that time) that once I'd lose the weight I'd be happy. It kept my momentum going for many months as I watched the numbers on the scale consistently decrease and my clothes continuing to get looser.
Then, that magic moment happened when I saw that "ideal weight" on the scale – – could it be? I stepped on and off the scale a few times before I realized that I'd actually lost 75 pounds!  But then, the bubble burst and tears welled up in my eyes as the realization hit – –  I wasn't one bit happier. . . but, how could this be?
And so began my personal journey into what would make me truly happy. I've had the pleasure of spending countless hours of self-study and formal education in the areas into holistic health, nutrition & lifestyle, psychology, personal development, self-help and beyond. It's been a fun and wonderful journey so far.
Along the way, I've learned a tremendous amount about myself, my choices in my life (and what I wanted instead) and how to get out of my own way. Today, I'm feeling more vibrant, beautiful and happy than I ever thought possible (and I have a BIG imagination). I truly got my sparkle back! I'm living a beautiful, wholehearted and loving life and I'm overflowing with gratitude. The positive impact on my family and friends has been the icing on the cake for me. I started wondering . . . why are so many women suffering like I did? My life-changing experience sparked my passion to trade in my law career to become a Health & Happiness Coach.
So wherever you may be in your own life right now, chances are, I've been there myself and I can totally relate. If I can learn how to improve my health and self-care while while working and raising a family, so can you! Believe me, I understand firsthand the challenges of today's stressful and active lifestyles.  I get it! I live that life too. That's why my approach is different! I keep it real and tailor it to your hopes and dreams mixed with whatever you have going on in your busy life! It's easier than you think to get healthier, happier and livelier (without spending all day in the kitchen). I will teach you my secrets to making the time to take care of you (and I promise that everything and everyone will be better off too)! Your family will thrive! Did I mention that I love food and I love to cook meals that are delicious yet simple and nourishing at the same time. I'm full of food ideas and realistic solutions that work. And I love to make things fun!
You see, what I didn't know then (but I'm happy to yell from the rooftops now) is that we all have lots of choices that will bring more love, joy and happiness into our lives but, sometimes, we just don't see them. My mission is to help women reconnect to their beauty and happiness so they can be the happiest, most gorgeous expression of themselves and live wholeheartedly ever after. I am happy to be the messenger of hope and happiness (with some health, vitality and really good music sprinkled in).
I would love to hear about your hopes and dreams and what would make your life sparkle. If you're ready to take that first step toward YOUR happiest, healthiest life, let's talk! Contact me to schedule your FREE 30-Minute GET HAPPIER NOW  Breakthrough Session by clicking HERE for my calendar.
Talk soon!
Let's make your dreams come true,
AMY GLASS, Esq., CHHC, HLC, CMTA, FDN
Amy@AmyGlassWellness.com
Empowering Women to Live Happily & Wholeheartedly Ever After!™